Gin, beets and cocoa blend in this bright, spring cocktail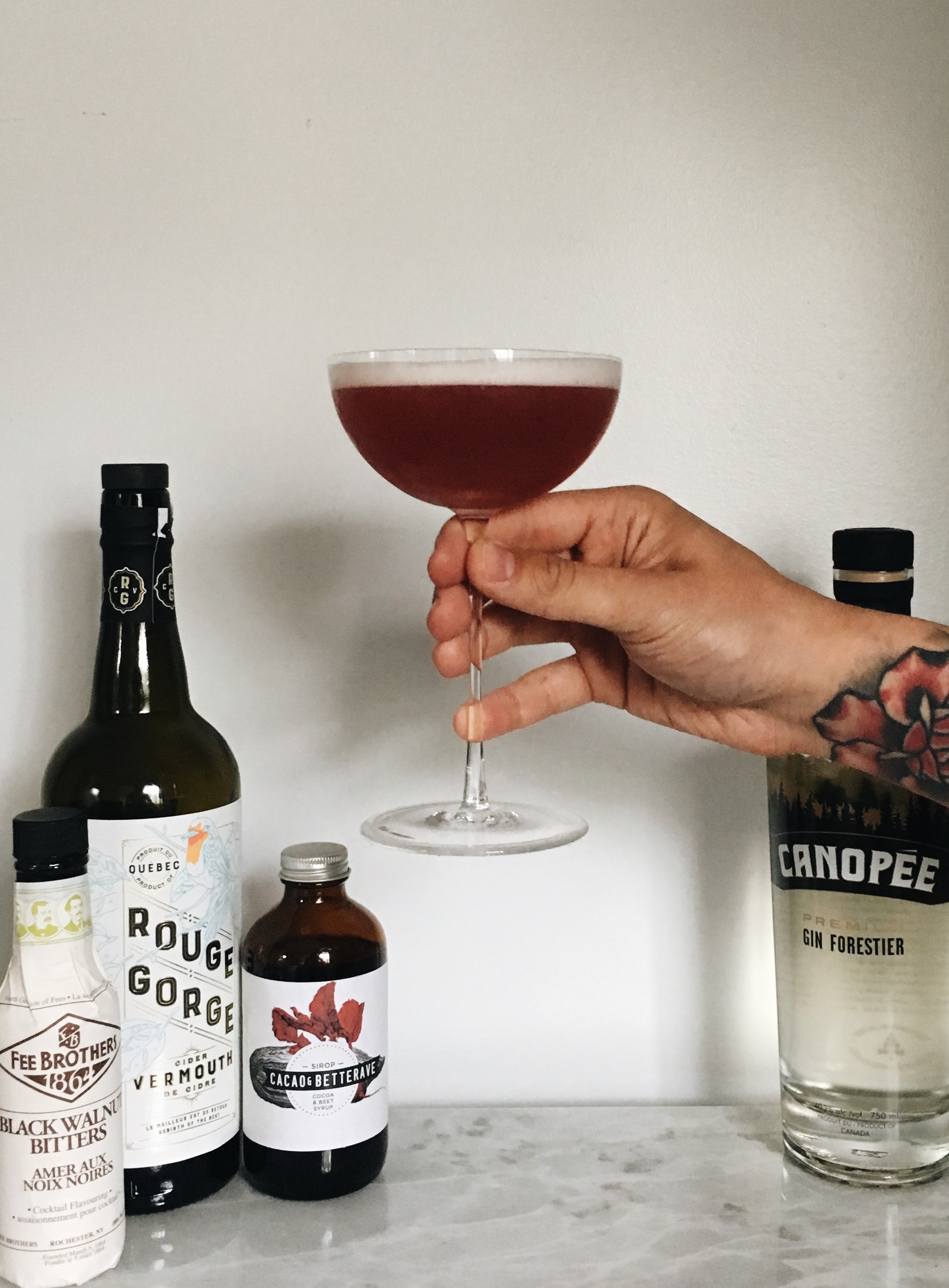 Help me find a name for this spring creation
I'm not one for super sweet cocktails. I tend to look for something with a certain balance of sweet and bitter — or even better, tart! Thankfully, this nameless cocktail hit all of the right notes while remaining bright, fresh and springy.
As Alex said, it reminded him of blossoming spring flowers. Well, I say it's pretty perfect as a lead in to Mother's Day.
While roaming around Montreal today, I picked up a few Quebec-made products and wanted to make them sing together. I had been interested in Les Charlatans's Beet and Cocoa syrup for a long while but didn't feel like adding the complex flavours to a simple Rum and Coke nor did I feel like making a dark and broody cocktail.
So here's what I opted to play around with:
Ingredients
1 oz Canopée Gin Forestier (or any woodsy gin)
1 oz Rouge Gorge Cider Vermouth
1/2 oz Les Charlatans Beet and Cocoa syrup
1/2 oz fresh-squeezed orange juice
An egg white
A dash of Lee Brothers Black Walnut Bitters
Method
Pour all ingredients except the bitters in a shaker. Dry shake (without ice) vigorously.
Add ice, shake again until shaker feels very cold.
Strain into a glass (I opted for a coupe) let some foam through the strain.
Add a few dashes of bitters.
See what I did there? Some bright ingredients with a dark side.
The Canopée gin is bright but has hints of smoke and wood. The Rouge Gorge vermouth isn't a simple red vermouth but more of a cider that can be enjoyed over ice. The orange squeeze plays well with the beet and cocoa — which surprised me with its floral taste.
The egg white topped off with some Black Walnut Bitters adds a little je ne sais quoi, a bit of texture and bitterness that grounds the cocoa in its place.
Now to find a name for it... got ideas? Let me know in the comments!