5 reasons why all newsrooms should adopt mobile journalism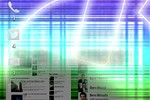 Veteran journalists are often the first to tell me newsrooms aren't what they were 10 years ago. This isn't hard to believe, considering the increasing demands brought on by the internet's immediacy, the competition — and the dwindling resources.
Reporters have had to branch away from their beloved media — some kicking and screaming — to become the new standard; multimedia journalists.
I've noticed several news companies moderately using smartphone features to provide news content to their websites, television and radio shows. However, many outlets seem to be using mobile content created by viewers and users and shy away from broadcasting stories created by reporters and their phones.
Here are five reasons why I believe all newsrooms should be handing out iPhones to their employees and making use of technology to enhance their news coverage:
1. It's immediate
Covering breaking news is demanding. With the popularity of social media and people's expectations to get up-to-the-minute live coverage of events, some reporters rarely have a chance to offer much more than a few 140-character tweets and a few photos.
Why not show your audience exactly what you're seeing by livestreaming what's in front of you along with your commentary?
Most smartphones have apps to livestream content directly online. Granted, the picture and audio quality may not be the best, but breaking news can't wait. Use apps like
Livestream
or
Ustream
to get your audience in the know about what's happening where you are.
2. It's TV ready
Media captured on an iPhone can easily be transfered via FTP to newsroom servers. In fact, even the Canadian Broadcasting Corporation (CBC) has toyed around with setting up FTP servers for their relatively new flock of mobile journalists.
Some execs may worry about the picture quality, but the iPhone 5 shoots 1080p HD video from its iSight camera and a relatively satisfying 720p HD quality video with its back-facing camera.
There are things the phone can't do when compared to a standard video journalist's camera. Most phones may have few shortfalls in low-light situations or with image stabilization, but with the proper equipment, most videos and stills shot with an iPhone can easily make it on the news and be shared on the web.
In an interview with Muck Rack, Matt Danzico, a video journalist for BBC said "For the individual, the future of video journalism involves using mobiles to produce high quality content through applications that automate the editing process. For the world, the future of video journalism involves managing and smartly archiving incalculable amounts of content across a digital map of the globe. And for the professional, the future of video journalism remains an increasingly difficult nut to crack."
3. It's easy to learn
Anyone can learn to use a smartphone and most of its basic features. These mobile devices are built to be relatively fool-proof and easy to understand. Here are a few of the top tips and tricks for the hot phones on the market:
February 1, 2013 · www.pocket-lint.com · By Stuart Miles Follow on Twitter 1 February 2013 The BlackBerry Z10 is here, a new OS with a new way of thinking, so how do you use it and are there any nifty little tricks to get you working even faster? We've compiled a list of dozens of tips to help you get the most out of the new features BlackBerry has added to BB10. Gestures With no buttons per se, gestures are the main way you'll get around... Open this article
July 8, 2013 · TrustedReviews · by Andrew Williams 07 May 2013 | Go to comments Share: +162 Tweet1308749 Share8749 The Samsung Galaxy S3 is one of the most feature-packed gadgets of the year. It can do so much that it's impossible to get your head around everything it's capable of in a few days. We've spent an age with the phone, and are here to share what we've found.If you want to get to know your Samsung Galaxy S3 a bit better, check out our... Open this article
July 8, 2013 · Yahoo! Finance · By The Business Insider | Daily Ticker – Thu, Dec 27, 2012 10:50 AM EST Email 0Recommend914Tweet0 Share0 Print Provided by Business Insider iPhones are great at doing basic things like making phone calls, sending text messages, and checking emails. But did you know that they can do so much more to automate our lives and make tasks easier? If you got a new iPhone for the holidays, here are some essential tips and tricks to get you started. By... Open this article
4. It's cost effective
In the words of Gary Symons
, the founder of iOS editing software
Vericorder
, "...a major TV network, wants to pilot a TV newsroom in a large American city, that doesn't use TV cameras at all. Instead, they want to equip the entire newsroom with iPhones and Mojo hardware kits. To me, this makes perfect sense. It will cost that network about $300,000 to $400,000 to equip each of their ENG trucks. Each ENG crew will need a camera operator, reporter, and an editor back at the station. If they're really good, they'll knock out one story, maybe two, for every reporter, per day. By contrast, a well-equipped TV mojo will cost $500 for the software and hardware, and they can produce four to five full TV packages in a single day. By themselves. It is true that you lose some quality making the shift, but what you lose in production values, you more than gain back in increased productivity, in faster time to air on breaking stories, and vastly reduced operating costs." — Touché.
5. It's always on you
News breaks around you all the time. Newsworthy events take place regularly and a journalist without his equipment should be able to rely on something he has in his pocket nearly all the time — a phone!
A study completed by the Pew Research Centre
states that "almost 40% of the most watched news videos in the 15 months from January 2011 through March 2012 came directly from citizens. Even some of the videos bearing the logo of a news organization were originally shot by citizen onlookers, a sign of today's new kind of professional/amateur news partnership."
You're a journalist 100 per cent of the time. Act like one and have the tools to do so.
Mobile journalism
Mobile reporting and innovations in mobile journalism.
iphone, android, blackberry, apple, app, mobile, journalism, MoJo